Schools and Field Trips
Come visit us or we can come to you!
3 awesome packages to choose from!
Pottery is finished shiny, smooth, and food safe in the kiln
The activity takes about 1 hour to complete
Our studio can accommodate up to 80 students
Great for after school groups, art classes, class projects, and more
Volume discounts for large groups
You don't even need us to be there with our Field Trip To Go package! (see below)
Pair with our Fundraiser Program to raise money for your school!
Artwork is returned to you individually wrapped for each child
Artwork is ready in one and a half weeks
$75 offsite fee + $1 per mile over 5 miles when we come to your location
10oz Mug or 6″ Dessert plate – Up to 24 painters – $14 per person
10oz Mug or 6″ Dessert plate – 25-49 painters – $13 per person
10oz Mug or 6″ Dessert plate – 50 to 99 painters – $12 per person
10oz Mug or 6″ Dessert plate – 100+ painters – $11 per person
6″ Tile – Up to 24 painters – $12 per person
6″ Tile – 25-49 painters – $11 per person
6″ Tile – 50-99 painters – $10 per person
6″ Tile – 100+ painters – $9 per person
4″ Tile – Up to 24 painters – $10 per person
4″ Tile – 25-49 painters – $9 per person
4″ Tile – 50-99 painters – $8 per person
4″ Tile – 100+ painters – $7 per person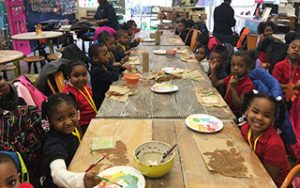 ---
Mosaics
Come visit us or we can come to you!
2 awesome packages to choose from!
Tons of colorful tiles to choose from
The activity takes about 1 hour to complete
Our studio can accommodate up to 80 students
Great for after school groups, art classes, class projects, and more
Volume discounts for large groups
You don't even need us to be there with our Field Trip To Go package! (see below)
Pair with our Fundraiser Program to raise money for your school!
Artwork is ready that day!
$75 offsite fee + $1 per mile over 5 miles when we come to your location
4″ X 6″ Frame – Up to 24 students – $13 per person
4″ X 6″ Frame – 25 to 49 students – $12 per person
4″ X 6″ Frame – 50 to 99 students – $11 per person
4″ X 6″ Frame – 100+ students – $10 per person
6″ Sun Catcher with Beaded Hanger – Up to 24 students – $13 per person
6″ Sun Catcher with Beaded Hanger – 25 to 49 students – $12 per person
6″ Sun Catcher with Beaded Hanger – 50 to 99 students – $11 per person
6″ Sun Catcher with Beaded Hanger – 100+ students – $10 per person
6″ Animal, Flower, Heart Plaques – Up to 24 students – $12 per person
6″ Animal, Flower, Heart Plaques – 25 to 49 students – $11 per person
6″ Animal, Flower, Heart Plaques – 50 to 99 students – $10 per person
6″ Animal, Flower, Heart Plaques – 100+ students – $9 per person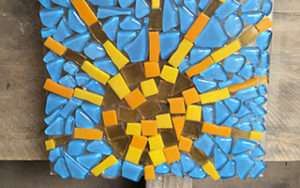 ---
 Beading
Come to our studio or we can come to you!
Each child gets to create their very own necklace!
Huge assortment of beads
Great for after school groups, art classes, class projects, and more
Made with memory wire so they're ready to wear home that day!
You don't even need us to be there with our Field Trip To Go package! (see below)
Pair with our Fundraiser Program to raise money for your school!
$75 offsite fee + $1 per mile over 5 miles when we come to your location
Cost: $11/child
Time: 1 hour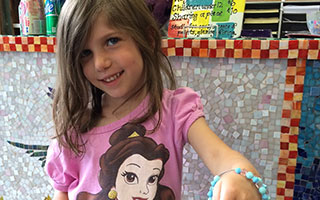 ---
 Hand Building with Clay
Each child creates a one-of-a-kind work of art out of clay
Choose from coil pots, pinch pots, or tiles!
Paint your artwork that day
Expert instruction from our experienced staff
Finished artwork is food safe
Great for after school groups, art classes, class projects, and more
Pair with our Fundraiser Program to raise money for your school!
Come to our studio or we can come to you!
$75 offsite fee + $1 per mile over 5 miles
Cost: $14/child
Time: 1 hour
Pick Up: 3 weeks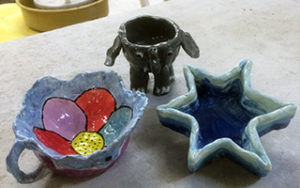 ---
 Field Trips To Go!
Take any of our Field Trip Projects with you to go and complete them yourself (excludes Handbuilding with Clay)
Just stop in and we'll give you all of your supplies and instructions
Perfect for integration into an existing Art Class curriculum
A great way to save a little bit of money and still get a great project for your group!
The pricing per project is the same as those listed above
$75 Travel Fee and Mileage Fees are waived
Give us a call to set up your Field Trip To Go!