Wheel Throwing: One Time Lessons | Six Week Courses| Gift Certificates
Quick Links: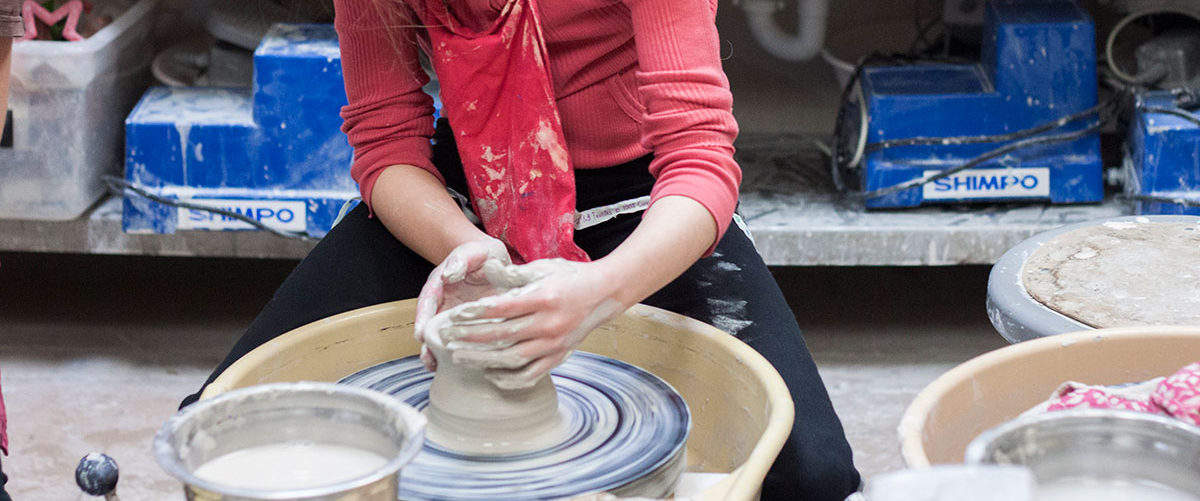 Get Messy! Make a Masterpiece!
One Time Lessons
$75 for the first student + $20 per additional student
Schedule your lesson for almost any time!
1 hour lesson (includes painting)
No experience necessary
Learn to make a bowl
Choose your own colors
Bring up to 12 people
Instruction, clay, glaze, and firing included
All tools and materials provided
Finished pieces are ready to pick up in three weeks
Ages 6+


Schedule Your One Time Lesson!

Availability may be affected by instructor availability, other lessons, long-term courses, and other events.
Six Week Courses
$226 + tax and tools
Each class session runs 2 hours
25 lbs of clay included
Learn how to create a variety of forms and shapes
Fun, laid-back atmosphere
Choose Monday, Tuesday,  Wednesday, Thursday, Friday  and Sunday 
Small class sizes, 9-10 students maximum
Practice time is available any time the pottery room is not in use
No experience necessary
All glazing and paints are included.
Tool kits are available at the studio for $14
I absolutely loved my first class. I learned so much already and I am itching to get back to learn more! See yah next week! 
Abra
If you come, it will be built…
The act and art of building something by hand is a trend that's gaining more popularity among families today. Perhaps, it's the disconnect from the digital and a reconnect to physical that has attributed to the trend's continued growth. It really comes down to the fact that people enjoy the satisfaction and sense of accomplishment that comes from working with their hands. Yet, it's not always practical or convenient to take time out to do this, let alone finding the facilities, where building things by hand is allowed.  Enter, the Creative Arts Studio of Royal Oak, Michigan where to build something beautiful and memorable, you have to get your hands dirty, as in wheel-throwing, dirty.
Ada Y. thought the "Wheel Throwing Event" was great!
Our teacher, Kristine was Fabulous!!!!!! She was very patient, informative, and helpful. She made our experience outstanding. We all had a wonderful time. I would recommend this private session to friends.
Ada