Wax Hands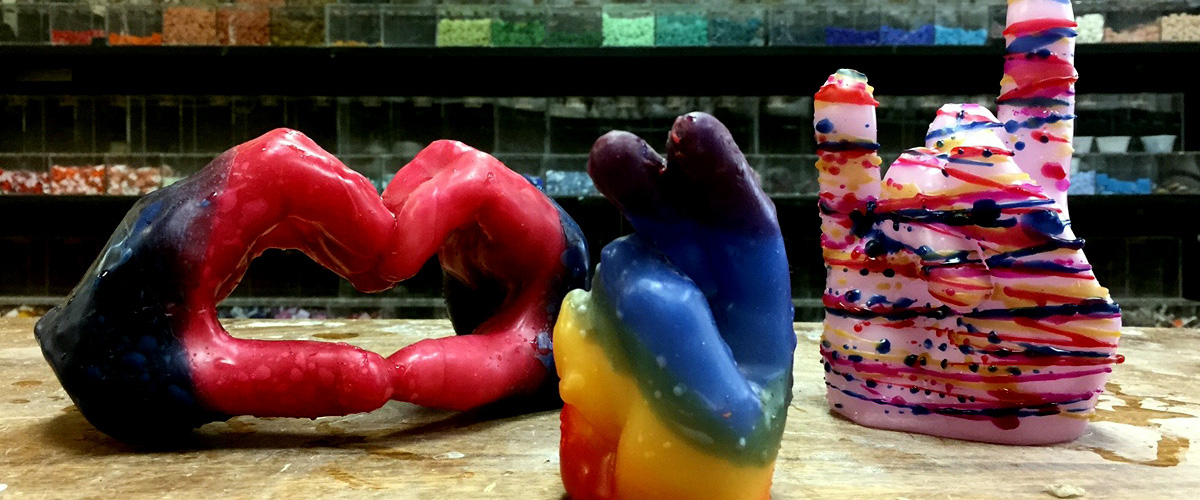 ---
Wax Hands are quick, colorful, and fun to make! We offer them in our walk in studio everyday, as an add on to our birthday party packages, or as an offsite project. Our wax hands machines travel easily to most any offsite event. They make the perfect party favor for bar mitzvahs and bat mitzvahs, graduation parties, school fun fairs, summer camps, church functions, school dances, community events, fundraisers, block parties, company picnics, kids parties, team building events, corporate events, sporting events, holiday parties, family reunions, carnivals, fairs, and more! Stop into the studio to make yours today or use the contact information below to inquire about adding wax hands to your next event!
---
At the Studio
Available 7 days a week
Only takes about 5 minutes
Any hand position works
Tons of colors to choose from
Take it home that day!
$8 for a single hand
$14 for a double hand
Add Wax Hands to your Birthday Party Package for just $5/child
If you have a walk-in group of 5 or more, please call ahead or make a main studio reservation for the wax hands
---
Offsites
Perfect for Bar/Bat Mitzvahs, School Events, Corporate Parties and Picnics, Communion Parties, All Night Parties, and more!
We have lots of experience traveling to events all over Metro Detroit
We can bring one or two machines (extra charges apply) for as long as you need!
Any hand position works
Tons of colors to choose from
Fun add-ons available to customize your hands
We can make roughly 45 hands in an hour
All we need is an outlet and 10 square feet of floor space
Call or email the studio for more information on pricing and scheduling or Book Now!
Wax Hands Gallery and Videos
---